Tourist Information
When staying in or visiting New Ross, you have your choice of dozens of historic and cultural attractions. Listed below, you will find a selection of the most popular destinations in the surrounding area.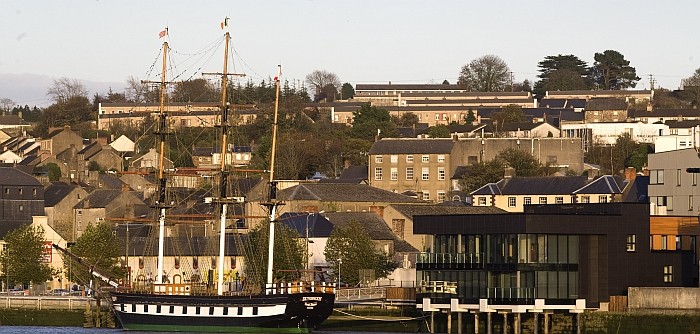 The Dunbrody Famine Ship:
Replica 1840's emigrant ship and visitor centre.
This embroidered Tapestry is the work of scores of volunteer embroiderers. The continuing project consists of 15 large panels, each taking several years to complete. It is a spectacular visual history of the Norman Invasion of Ireland and the founding of the town of New Ross; a must see attraction for anyone visiting the area.
The Galley cruises the calm and beautiful 'three sister' rivers; the Barrow; the Nore; and the Sure. While you enjoy the spectacular scenery, our chefs prepare your meal using fresh local produce. Three cruises are available: the 'Leisurely Lunch Cruise'; the 'Afternoon Tea Cruise; and the 'Unique Dinner Cruise'.
Dedicated to the memory of President John F. Kennedy, the Arboretum is world-class collection of plants and trees from all over the world. Covering 252 hectares it contains more than 4,500 species of plants from the temperate regions of the globe. With a Visitor Centre, Café, playground, and model railway, the Arboretum makes a fantastic family day out.
The Kennedy Homestead, birthplace of President John F. Kennedy's great-grandfather Patrick Kennedy, celebrates the story of five generations of the Kennedy dynasty and is still today farmed by his descendants.
Duncannon Fort is a star shaped fortress built in 1588 in preperation of an expected attack on the area by the Spanish Armada. The Fort is surrounded by a 30 ft high dry moat and has one of the oldest lighthouses of
its kind in Ireland. An added attraction is the Maritime Museum, charting the history of one of the most treacherous coastlines in Ireland.
Built by the Normans some 800 years ago, this is the oldest intact, and operational lighthouse in the world. Guided tours are offered all year round. The lighthouse provides dramatic ocean views, as well as incorporating a café, gift shop, and art galleries.
Located in Kilkenny City, a mere 40min drive from New Ross, the castle was built by the Normans in the 13th Century. Visits to the castle are by guided tour and last approximately 1 hour.
The House of Waterford Crystal is the home of the most famous Crystal brand in the world. The factory tour will provide with a fascinating demonstration of each stage of production. The retail store is home to the world's widest selection of Waterford Crystal.
Located just outside the town of Enniscorthy, the centre tells the epic and heroic tale of the 1798 Rebellion and it's aftermath.
The Heritage Centre takes you on a journey through 9000 years of human habitation in Ireland. You will be guided through full-scale replicas of Irish settlements, and learn about the features unique to each historical era.