Experiencing The Dunbrody Famine Ship
As you arrive into the exhibition, we establish an illusion that you are an emigrant passenger by creating a theatre set with audio of voices from the past and a seamless interaction with live interpreters.
Our exhibition is divided into three parts:
Departure, Voyage and New World.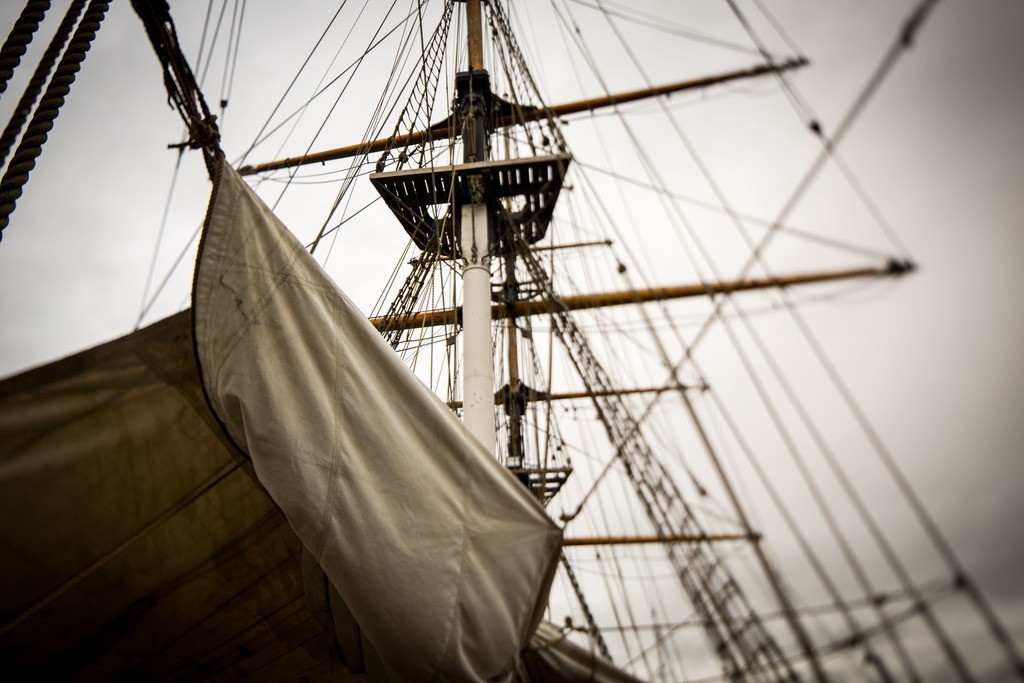 Ticket Office
As you enter the exhibition, you arrive on the dock at New Ross Quay. The scene in front of you is William Graves' ticket office and you overhear Ann Morrissey, a 25-year-old housekeeper from Glenmore, paying the balance of her fares.
With Boarding Pass in hand, you join the throngs of emigrants gathering in the Embarkation area.
Here you get a vision of what impoverished refugees, who risked everything they had, including their lives, might have felt as they stepped on board a ship setting sail for a dangerous journey to an American life.
Guides in Period Costumes
The next section of the exhibition, Voyage, takes place entirely on board the ship. Here, in the steerage accommodation, you meet fellow "passengers", Mrs Anne White and Mrs Mary O'Brien, who engage you in conversation, freely sharing their opinions and experiences of the journey.
Aboard the Dunbrody
Close by is the crew's quarters, the captain's cabin and the much plusher accommodation for the "cabin" passengers.
One area is given over to a selection of the cargo which the Dunbrody carried on her return journeys from America, the other half of the ship's story.
In the New World
Eventually arriving in the New World of Savannah Georgia, you will hear heartrending tales of the tragedy at the quarantine station of Grosse Ile, and see how fellow emigrants adjust to their new environment.
With a million and a half people migrating during the Great Hunger, it would take generations and much hard work for the Irish to define themselves with respect and dignity in North American culture.
American Hall of Fame
The American Hall of Fame at the end of our tour reflects the realised dreams of impoverished emigrants—the large numbers of Irish Americans who have made significant contributions to our world—the Kennedy dynasty, Henry Ford, Georgia O'Keeffe, Eugene O'Neill, James Watson,
Grace Kelly…
The Dunbrody Souvenir Shop
After a memorable metaphorical pilgrimage on the Dunbrody, our museum shop has a large selection of Irish heritage books, prints, crystal, jewellery and other memorabilia.
The Captain's Table Restaurant
The Captain's Table Restaurant, overlooking vibrant New Ross Quays, is the perfect place to relax and absorb the experience of the ship.
Our menu offers everything from Breakfast to Main Meals and Light Bites to Sweet Treats—all to be enjoyed in this wonderful river view setting.
| | |
| --- | --- |
| Adult | €14.00 |
| Senior | €13.00 |
| Student/Child | €9.00 |
| Child under 4 | Free |
| Family 2 Adults + 1 Child under 12 | €32.00 |
| Family 2 Adults + 2 Children under 12 | €40.00 |
| Family 2 Adults + 3 Children under 12 | €48.00 |
| I'd like to Donate | €5.00 |
Joint Ticket option available with our sister attraction, the Kennedy Homestead.
Group Rate available on request, email marcellabutler@dunbrody.com
The Dunbrody Ship, Visitor Centre and Captains Table Restaurant are open 362 days of the year.
April-September 9:00am-6:00pm (last tour @ 5:00pm)
October-March 9:00am-5:00pm (last tour @ 4:00pm)
Driving Times to New Ross
From Dublin Airport (via M9) – 2hrs 15 mins
From Shannon Airport – 2hrs 35 mins
From Kilkenny City – 45 mins
From Wexford Town – 35 mins
From Rosslare Harbour – 45 mins
Driving times are approximate, and depend on traffic and weather conditions.
The Dunbrody tour is fully wheelchair and buggy accessible.
Family Friendly
Pet Friendly
Ideal attraction for school tours as we provide an educational and entertaining tour that actively engages young people with a critically important era of Irish history.