The Emigrant Flame
On June 18th 2013, a gathering formed at the graveside of President John F. Kennedy in Arlington Cemetery, Virginia. The purpose was to take a light for the eternal flame at President Kennedys graveside and to bring it to New Ross to light the Emigrant Flame which now stands beside the Dunbrody Famine Ship Experience on the quayside in New Ross.

The flame now burns permanently to remember all emigrants throughout the world. The journey of the Flame also symbolically fulfilled President Kennedys promise "to return to Ireland in the springtime".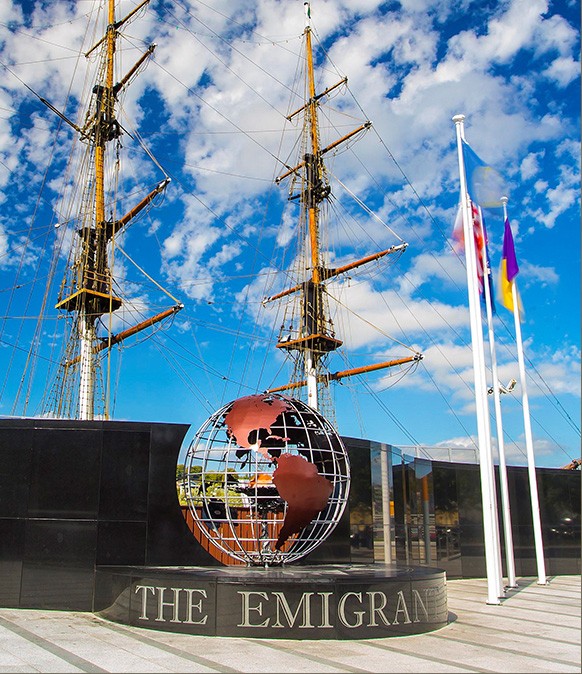 The Lighting of The Flame
The lighting of the Flame was a solemn occasion, a U.S Army honor guard accompanied Irish Minister of State Paul Kehoe, in a wreath-laying ceremony at the Kennedy graveside. An Irish Army officer, accompanied by an Irish Army honor guard, lit a lamp in a metal burner from the eternal flame. The Irish National Anthem was sung by Michael Londra and Anthony Kearns gave a rendition of the Star Spangled Banner. The Flame arrived in Dublin Airport on June 20th, and was transferred to the Irish Navy Vessel- LE ORLA for transport by sea to New Ross.
On Saturday, 22nd June 2013, JFK50 celebrations commenced in New Ross, the ancestral hometown of President John F. Kennedy. National and international stars of music, entertainment and literature took to the quayside stage to honour and celebrate the memory of one of Wexford's most famous sons- fifty years after his memorable visit to Ireland in 1963. The event was hosted by Anne Doyle and George Hook and special guests included American Grammy award singer Judy Collins, award winning writer Colm Tóibín, Valda, The American Spiritual Ensemble, Wexford percussion group Extreme Rhythm, New Ross and District Pipe band and Wexford man and Emmy nominated tenor Michael Londra.
Michael Flatley narrated the journey of the Flame and the immigrant story before the lighting ceremony. The flame was carried along the newly developed boardwalk in a relay which involved members of Special Olympics Ireland, the United States Peace Corps, members of the community and New Ross Town Council. President Kennedys d aughter Caroline and his sister Jean Kennedy Smith accompanied by the then Taoiseach, Enda Kenny, lit the Emigrant Flame from the three torches presented by Special Olympic athletes. Judy Collins sang Amazing Grace, the Air Corps preformed a stunning flyover and the grandson of President Kennedy, Jack Schlossberg, addressed the gathering on the same quayside where his grandfather had spoken to the New Ross crowds 50 years before.