The Building of the Replica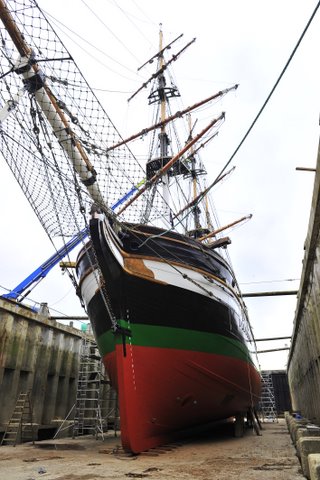 In November 1996 the JFK Trust began construction of the Dunbrody. Based on the design of the original, plans for the replica were drafted by the renowned naval architect Colin Mudie. A half-dozen experience shipwrights were engaged to supervise the project, headed by Michael Kennedy. With the support of FAS (the Irish National Training and Employment Authority), a workforce of apprentice shipwrights and trainee carpenters was assembled. Over the course of the five-year construction project more than 150 local people would gain hands-on experience of traditional shipbuilding skills.
During the construction phase the Dunbrody was already beginning to draw tourists to New Ross. More than 100,000 people, from all over the world, visited the dry dock. There, they could witness her massive timbers being painstakingly shaped and fitted into place.
With the help of Coillte the frames of the ship were made of Irish oak, farmed using sustainable methods. However no trees in Ireland were large enough to provide the major structural timbers. These were all sourced from Africa. The keel was made of Greenheart, and Opepe was used for both stem and sternposts. All of the ironwork was produced, on-site, by a blacksmith.
The final outfitting and rigging of the ship was entrusted to specialists from Navcon Naval Consulting.
After years of tireless effort the Dunbrody was finally ready to launch. Early on the morning of February 11th 2001 the gates of the dry-dock gates were opened and the Dunbrody floated to her lines, ready to take her pace at the Quay of New Ross. The launch ceremony was honoured by the attendance of An Taoiseach Bertie Ahern T.D., and former US Ambassador to Ireland Jean Kennedy Smith.